TOP 50 ALBUMS OF 2022: Part I (#50-#41)
List madness begins.
Welcome to list madness! If you've followed my various musings throughout the years (thank you, by the way!) you probably know the drill by now - every year around this time, I take the constantly updated file where I write down every album I've enjoyed since January along with a few notes, I order that list according to preference, and I offer you a ridiculously large x albums of the year list. From 20 to 66 to 100, I've done a bit of everything, and this year I've settled on 50. Just like what I do with my guests on the podcast, absolute freedom is pretty much the only rule I follow for building the list, but here's just a few details and non-rules before we start, for the newcomers:
Only full-length albums count. No demos, live albums, reissues, EPs, splits or anything else like that. I often do specific lists of these things after the big one if I can be arsed, let's hope so for this year.

Sometimes I place two (or more) albums in a position, for any reason that I see fit - either there's a common musician between them or any other factor they share, or simply the music in those albums is related in my head somehow. Regardless how many pile-ups I do, they still only count as one position. So if I have three albums on #37, the next one is still #36. That means, yes, that you won't really get 50 albums in the list. In fact, spoiler alert, you'll get 64 in total this time. More music to check out, right?

As you might have noticed if you follow The Devil's Mouth, there's no genre boundaries. A quiet folk album, a shrieky blackened noise album, a pop album and a power electronics album might come at you in successive positions. The only common theme to all this is "shit I like". Oh, and I'd love it if you'd comment with shit you like too. Because, most of all…

…lists are silly, okay? I love them and I love making them, but I don't love it when they're taken too seriously. I could order this again tomorrow and you'd probably get a vastly different list, apart from the very topmost positions that have had a bigger deal of thought behind them. Also, I listen to a lot of music, but not all music there is, so I'm sure I left out a ton of records that would merit inclusion. Hell, I had 24 more records in that file alone that I didn't include, let alone stuff I missed altogether. I also have my own particular taste, so a lot of the records you love, I might not, and I might have disregarded their inclusion intentionally. I might think your album of the year sucks, as you might do mine, and that's no biggie. In short, let's by all means all argue about our lists in the comments, but bearing in mind that the whole point of this is spreading the word about awesome music and hopefully that you'll get some cool new favourites out of it.

Apologies for using Spotify (and I'll have YouTube as a backup when some album is not on Spotify), I know it's shit, but Substack doesn't allow for Bandcamp embeds for now, so this is the most practical way to offer you instant access to the albums I'm talking about. It sucks, I know, and feel free to google "bandname + bandcamp" on all of them to go there instead.
And that's it. This first volume has positions #50 through to #41. Every few days I'll be posting new volumes up until my #1, the album of the year. Hope you enjoy the ride. Onwards!
---
50.
IAmber
'Mercurial Shakes'
[Self-released]

You might recall I featured IAmber as band of the week a few weeks ago, with a nifty interview and everything, so reading that will tell you all the reasons I loved this moody take on contemporary post-stuffs. Great quiet/loud dynamics, a rather sinister, arid landscapey kind of vibe, and kickass songwriting. They deserve more listeners, so go!
---
49.
Konvent
'Call Down The Sun'
[Napalm Records]

When I reviewed this, Konvent's second album, for Zero Tolerance magazine a few months ago (the album came out in March already), I very colourfully mentioned that "you'll basically spend most of Call Down The Sun gasping and trying to come up for air, but loving every suffocating minute of it," because sometimes you need to be a little over the top with your analogies in a short written review written on a bit of paper, but that still pretty much sums up the overall feeling the particular brand of intense death/doom this Danish band inspires. Bleak, atmospheric and monstrously heavy, and if you only listen to one song on it, make it the delightfully horrendous 'Grains'.
---
48.
ColdWorld
'Isolation'
[Eisenwald]

Another band that got the band of the week treatment a while back, and I was so excited at the time to tell you guys about this new album (their first in over six years) that it even made me break a sort of unwritten rule I have for that feature, which is to not focus too much on albums I get ahead of release date, so that all you guys can listen to them straight away if you're excited by what you read. But hell, ColdWorld have been around for a while now, so you should know how awesome their chillingly icy, desperately melancholic brand of atmospheric black metal is. And I'm happy to report that I've been spinning 'Isolation' regularly since that feature, and everything I said back then still holds up.
---
47.
Firebreather
'Dwell In The Fog'
[RidingEasy Records]

I'm as tired of "stoner" as the next guy who isn't going to Desertfest every year to see all the same bands you've already seen a million times before, bu Firebreather are the kind of guys who still make it sort of okay to use that term without it being an insult. Sure, there's a lot more to what they do, but in the end, it's the familiarly suffocating fuzz of their gigantic, fist-raising riffs that will get you, and there's nothing wrong with that. On the contrary!
---
46.
Dystopian Future Movies
'War Of The Ether'
[Septaphonic Records]

Dystopian Future Movies, who feature Caroline Cawley and Bill Fisher from the wonderful Church Of The Cosmic Skull, have deserved so much more recognition ever since they appeared on the UK scene as an already totally unique entity. Poetic and gentle but also forceful and dark, evocative, complex and atmospheric and only the best shoegaze mutations can be but also raw and wounded enough to be called doom, their music is perfect for the often overused "cinematic" description. 'War Of The Ether' is quite a tour de force already if you're new to them, but do go check out the previous 'Time' and 'Inviolate' too if you're into this.
---
45.
Diamanda Galás
'Broken Gargoyles'
[Self-released]

It's almost blasphemy to have Diamanda in any position of the list that isn't #1 (or to have her in a list at all, as if she belongs in any category that includes other people), but this is simply due to the fact that 'Broken Gargoyles' isn't exactly the type of record that you'll put on a lot of times. And that's not a bad thing, it's just the nature of this music - after years of a more song-based approach, mostly rooted in the great lady's endless exploration and reinterpretation of old blues and jazz, 'Broken Gargoyles' plunges us straight back into the same kind of hellish, abstract landscapes she has created earlier in her career. Based upon early 1900s German poetry about sick patients and maimed soldiers, spread over two colossal side-long tracks, it's a tortured and confrontational listen, but one that is worth every difficult second.
---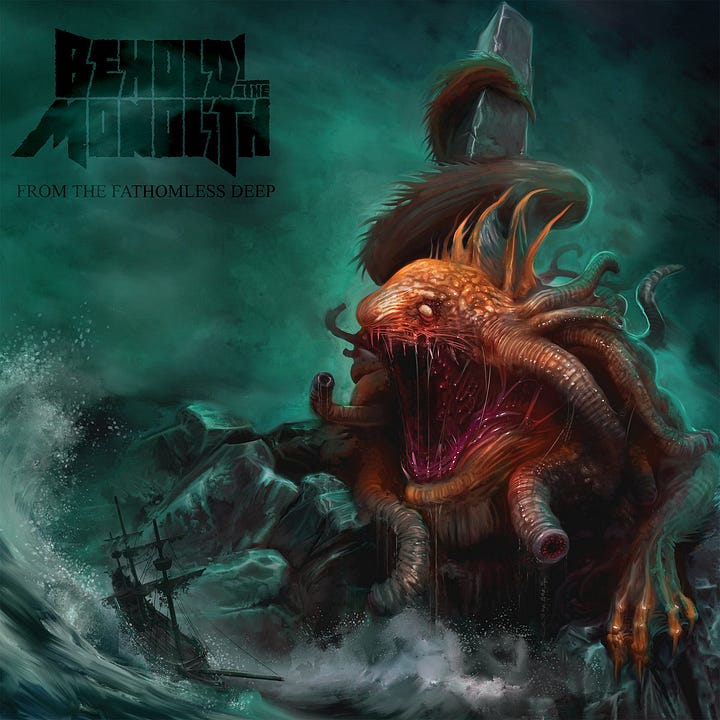 44.
Behold! The Monolith
'From The Fathomless Deep'
[Ripple Music]

Process Of Guilt
'Slaves Beneath The Sun'
[Alma Mater Records]

Two bands that appeared during the post-metal-ridden first decade of the century, both of them clear highlights of those movements of heavy music that redefined a lot of things based essentially on a love of Neurosis and/or Godflesh (among many other things, of course), but that seems to have kinda died down in terms of overall inspiration in the last decade. Well, both Behold! The Monolith and Process Of Guilt haven't gotten that memo, and after a few years of editorial silence from both of them (seven for the former and five for the latter), they both roar back with some of their best work ever.
L.A.'s B!TM retain the core duo of guitarist/songwriter Matt Price (who's been a wonderful guest on The Devil's Mouth podcast) and drummer Chase Manhattan, while adding, crucially a new vocalist, Menno Verbaten who's also in Lightning Swords Of Death and recently Cryptic Slaughter as well. His thrashier, more aggressive style fits the densely constructed new songs wonderfully well, and the whole thing swaggers mightily like an oncoming avalanche created by the vibrations of old High On Fire and Mastodon songs. Maybe this'll be the album that sees them rise above their long-time underrated status?
As for Process Of Guilt, they also share the general under-appreciation that their list-neighbours do, and strangely the release of 'Slaves Beneath The Sun' went by a little under the international radar, which is weird because their first video alone is enough to send anyone who's into aggressive, nasty music into a berserking frenzy. Contrary to the usual trajectory, the Portuguese quartet (who never had a line-up change in twenty years) seem to be getting grittier and more violent at each album, with subtle insidious melodies worming in there - Nuno David is a remarkable guitarist - , yes, but relying mostly on pounding, pitch-black rawness, ever spearheaded by Hugo Santos' all-consuming bellow, to achieve their goals. Theirs is a heavy standard, but with time 'Slaves Beneath The Sun' looks like it'll grow into their best effort yet.
---
43.
Wormrot
'Hiss'
[Earache Records]

The future of Wormrot is uncertain, because 'Hiss' is the last album to feature long-time vocalist Arif (also leaving is his partner Azean, the band's manager), but even if this turns out to be their parting shot, fuck me, what a mark they will leave. Not that it's a surprise - ever since they burst onto the scene with their debut 'Abuse', already thirteen years ago, they've offered nothing but pure grind perfection, and 'Hiss' might even be, finally, the record that tops that obliterating, already legendary debut. Raw, immediate, evoking a feverish sense of urgency, but with constant songwriting twists keeping everything fresh and interesting - check out the surprising forays into more straightforward punk, death or even black metal of some of the longer tracks. At the very bitter end, we're even treated to a gigantic mashup of everything they do throughout the album, the unreal 'Glass Shards'. Pure fucking next-level grind-and-more-core, man.
---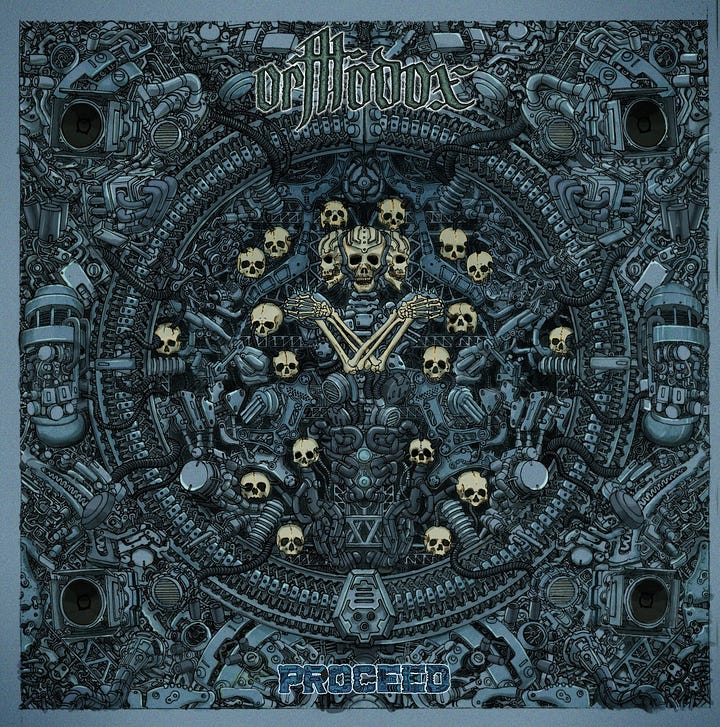 42.
Orthodox
'Proceed'
[Alone Records]

Pylar
'Abysmos'
[Humo Internacional]

Okay, this is an easy pair to explain - despite the shadowy aura of mystery that Pylar like to maintain, it is fairly common knowledge that the project is spearheaded by returned Orthodox guitarist (he was out of the band for a few years back there) Ricardo Jimenez Gómez, aka Bar-Gal in the Pylar universe.
But first things first, and let's just call Orthodox "first" over seniority, a seniority that in their case is actually quite important, as the first two albums of the Sevillan band, 'Gran Poder' and 'Amanecer En Puerta Oscura' produced a major impact at that time, jarringly sinister pieces of drone/doom that they were, at a time when the band also performed robed in the typical historical garment of the penitent brotherhoods of their hometown. Far from being crowdpleasers, however, their trajectory soon veered onto more out-there, jazzier, unpredictable directions, making sure their ever-shifting fanbase can only presume to expect the unexpected. Well, 'Proceed' does, in a way, erm, proceed with this approach, but if you've pined for the more clearly heavy, even metallic outlook of the fist albums, this might be the closest they've gotten. Marco Serrato's trademark wavering vocals and low frequency bass rumble are still the main driving forces, but this marks yet another successful chapter of exploration for the Spanish giants. And what a fucking gargantuan closer they offer with 'The Long Defeat'!
Pylar, on the other hand, feel like what would happen if you would rip out Orthodox's slowly pulsating drone/doom heart, 'Indiana Jones and the Temple of Doom'-style and put it upon a Cthulhu-worshipping altar. Offering Oranssi Pazuzu, Blut Aus Nord or even Swans as inspirations, theirs is a trance-inducing, almost hypnotic take on that admittedly vague genre, often feeling free enough as to be a ritualistic jam session, but never as formless as most improvisational music tends to become. No, there's a definite intention behind this, a menacing, void-staring malicious intent that the first song alone will be enough to unveil. Approach with caution!
---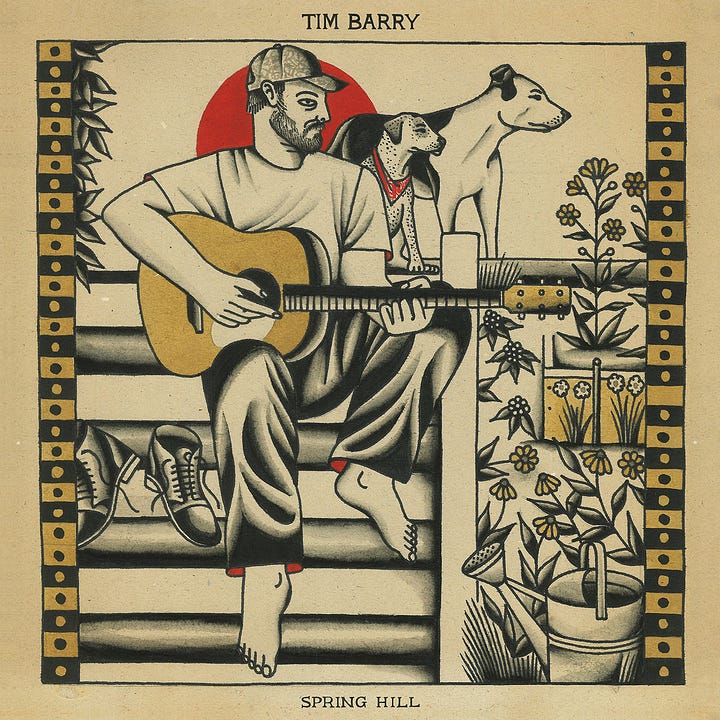 41.
Tim Barry
'Spring Hill'
[Chunksaah Records]

The White Buffalo
'Year Of The Dark Horse'
[Snakefarm Records]

The rationalisation? Well, Tim (the former Avail frontman, you might remember) and Jake (Smith, aka The White Buffalo) are two of my favourite singer/songwriters this side of the 21st century, two totally down to earth, no-bullshit dudes who write and sing unpretentious yet gloriously relatable and lasting songs about real life stories, shit that could happen to you and me, and often does, with enough heartbreak but also enough light pouring through the cracks to produce tears of both sadness and elation.
For real? While I do believe in all of that, I mostly ganged them up together so I could fit 'Year Of The Dark Horse' on the list, as that was one of the albums that I did not get in advance and it only came out the other day, on November 11th. I approached it with some caution, as the previous 'On The Widow's Walk' was by far my favourite of Jake's albums so far, and we all know how initially disappointing new music can be if you unrealistically expect too much of it. Fortunately, it didn't take long for it to hit me straight through the heart as the man usually does with apparent ease. It's like the man sweats out songs on his morning run or whatever. The jumpy, almost giddy opener 'Not Today' sets a similar tone to that remarkable previous album striaght out of the gate, his warm baritone telling you "it's time to seize today" with such honesty that you really believe it yourself. It's not all roses, as also usual, and before the goddamn heartbreaking closer 'Life Goes On' twists your soul one last time, there's a whole rollercoaster of feelings to contend with. Fortunately, you'll be singing along through it all.
'Spring Hill' offers a similar experience, to be honest. While Tim Barry has always been more about sorely honest storytelling, portraying many beaten down, life-weary characters in his songs mixed in with personal experience, the emotional rollercoaster is the same once again on this new album. It's not a huge departure from his other records, and I don't think anyone expects or wants that - we're perfecty fine living among this little Richmond universe Tim illustrates better than anyone, and this is another chapter of his free-livin', train-ridin', trying-to-make-the-best-of-it kind of vibe, with the occasional relief coming from quirky but still strangely beautiful and evocative tongue-in-cheek numbers like 'Dad's iPad'. Me, I'm still figuratively up on that isolated mountain of 'Lost & Rootless's closer 'Mayfly', and that album will always have a special place for me, but 'Spring Hill' is way up there with everything else Tim's done. Can't wait for the next one already.
Stay tuned for the next round!
The Devil's Mouth is a reader-supported publication. To receive new posts and support my work, consider becoming a free or paid subscriber.