TOP 50 ALBUMS OF 2022: Part III (#30-#21)
Halfway through!
---
30.
Author & Punisher
'Krüller'
[Relapse Records]
Is there anyone who doesn't love Author & Punisher? Tristan Shone's handling of his musical creation has been nothing short of flawless, handling what could have easily turned into a soulless exploration of a gimmick (in case you're late to the party, Tristan is an engineer and build pratically all of the instrumentation he uses in his records, and some of it is even wearable and makes for some awesome industrial metal cyborg killer looks on stage) expertly, never letting stagnation set in and always fearless to explore uncharted territories. 'Krüller' is one of his biggest leaps of faith, incorporating more melody, a more varied vocal style, and a more spacious kind of songwriting, all while maintaining the machine-like feel and industrial weight of the whole thing. And if you need big-name references, there's a couple of huge ones - both Justin Chancellor and Danny Carey of Tool show up with wonderful guest performances, and there's also a glorious, anthemic cover of Portishead's 'Glorybox' to wrap your head around.
---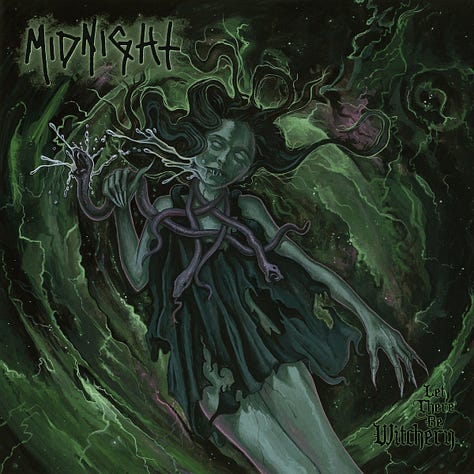 29.
Midnight
'Let There Be Witchery'
[Metal Blade Records]
Spiter
'Bathe The Babe In Bats' Blood'
[Hells Headbangers Records]
Devil Master
'Ecstasies Of Never Ending Night'
[Relapse Records]
I love that we are seeing a proliferation of this kind of black metal/punk hybrids in the past couple of years, because to me, if you really get down to the heart of it, that just means that more and more people are paying attention to the actual origins of black metal. I mean, black metal/punk, in the end, really just means Venom, doesn't it? Black metal was essentially born out of a will to be Motörhead but more extreme in every way. If Motörhead was the loud, speed-ridden (both in actual pace of playing and in substance terms) rude bastard brother of hard rock and blues, then black metal was the same thing to heavy metal and punk, and that's something that the most important pioneers have never really denied, on the contrary.
And yes, a lot of that rise of this kind of thing is due to the success of Midnight, who cleared the path to everyone who has followed by showing that it is possible to do their own thing, to not be just a mindless tribute genre-band while still clearly wearing those influences on your sleeve. 'Let There Be Witchery' is very simply another fantastic collection of Midnight songs, with all the hooks you'd expect - main man Athenar once told me in an interview that "the songs themselves and the recording, you want to get that balance of Hellhammer and Beach Boys, you know?" - and all the sleaziness and brutality that you'd demand from them by now too. He also told me in a different interview that "the best type of heavy metal music for me, the kind that I listened to as a kid, is the kind that gets your visceral juices going and makes you want to bang your head," and that's exactly what he's delivering. And that's enough to get on any position of any list of any year for me.
Following closely on the master's footsteps are Devil Master. And far be it from me to try to imply that the bands are in any way super similar - especially because it's not the first time that I've paired them together in a list like this - because they really are not. Devil Master offer a nicely twisted version of that black metal/punk binomial, serving it up with a hefty helping of campy, gothed up, halloween-horror vibes. The one thing they have most in common with Midnight is the same kind of downright malicious glee you get from listening to numbers like 'Acid Black Mass' or 'The Vigour Of Evil'.
Joining the coven this year - and I can't stress enough that apart from these highlights that made the list, there's been many other worthy releases more or less within this genre if you look around just a little bit - is a relative of Devil Master. Spiter are a trio who feature Francis Kano, aka Darkest Prince (in Devil Master, where he plays guitar), aka Bat (in Spiter, where he plays bass) in their line-up, and they offer a sort of nastier, rawer and more direct version of what's described above, and I was so excited when this, their debut full-length, came out that I decided I should do reviews of new stuff on this here website too, and that should tell you everything.
---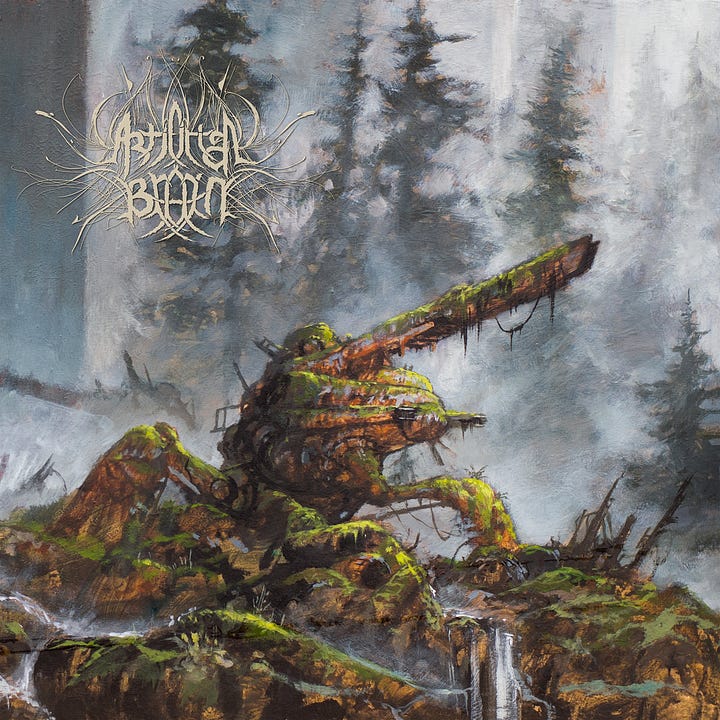 28.
Artificial Brain
'Artificial Brain'
[Profound Lore Records]
Luminous Vault
'Animate The Emptiness'
[Profound Lore Records]
The main thing connecting these two awesome releases, aside from being on the same record label, is Mr. Samuel Smith, who is starting to be in more amazing bands that should be permitted by law. Not only is he the bassist/vocalist for death metal trailblazers Artifical Brain and the guitarist and one half of genre-bending duo Luminous Vault, but he's also playing guitar for Aeviterne and bass for Fawn Limbs, two crushing experimental outfits that you should also check out as soon as possible. I like that I have this link, because it allows me to cram even more great records onto the list.
So, Artificial Brain you should know by now if you're at all into death metal - they're on their third album, they just keep getting better and better, and in a way I feel that I haven't even fully digested all the crazy technical stuff that's going on in their 2014 'Labyrinth Constellation' debut, let alone on this new self-titled, which just ups the proggy insanity a few levels up. They're one of the best death metal bands right now, period. And luckily I was able to say that to their drummer before I knew who he was when I randomly met him at a bar in Copenhagen, so he knows I really dig them and wasn't just bullshitting. [shameless self-advertising mode] This and other fascinating (ahem) stories can be heard on the great chat we had on episode #105 of the podcast. [/shameless self-advertising mode]
Luminous Vault, on the other hand, are a more recent entity, and their two first EPs ('Communion' from 2015 and 'Charismata' from 2017) might have slipped under many radars, but with this first proper album, 'Animate The Emptiness', there's no excuse to hide from them anymore. Like seemingly everything that Sam is involved in, they are far from being an obvious listen, drawing from black and death metal, as well as electronics and synth-based music. Nothing I can say about them will sound as exciting as their songs do, and I have already tried a bunch when I had them featured as band of the week, so just go listen to the damn thing.
---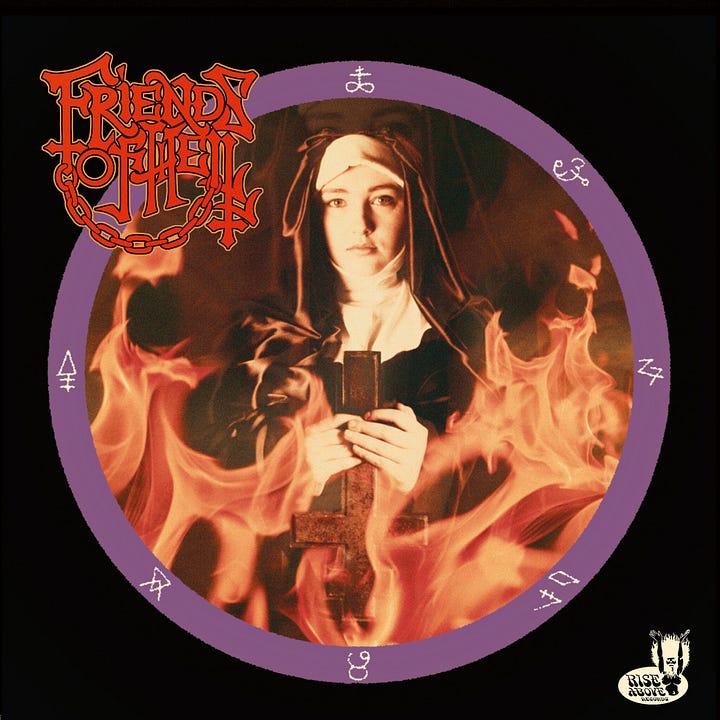 27.
Friends Of Hell
'Friends Of Hell'
[Rise Above Records]
Olli Hänninen And Sami Hynninen
'Chambers'
[Svart Records]
The one and only thing connecting these records is really the presence of Sami Hynninen in both, a gentleman the more metal-minded among you might know as Albert Witchfinder from the absolutely legendary Reverend Bizarre. They could not be more different in any other aspect if they were actively trying to get away from each other, which is in a way a fascinating reason to pair them together in the end, or at least it feels like it inside my weird brain.
Friends Of Hell is proper, straight up doom metal. Someone on a Metal Archives review wrote that it's the kind of album that "reviews itself", and it really is. From the band name alone (which I hope you know where it comes from) to the line-up - a sort of supergroup put together by Tas (Diavolos, Mirror, Satan's Wrath, ex-Electric Wizard, The Devil's Mouth alumn) with Taneli Jarva (Diavolos, ex-Sentenced, ex-Impaled Nazarene, ex-The Black League) and Jondix (Mercury Gates) rounding out the quartet -, to the record label it's been released on, everything about it suggests the Pentagram-worshipping, Black Sabbath direct descendent that it is. Which is not to say that it's not relevant, because their take on such a traditional direction is much more evil-sounding and intense than most, and songs like 'Shadow Of The Impaler' or the title-track are simply undeniable in their fist-raising, shouting-along effect.
On the other hand, Sami's collaboration with fellow Finnish musician Olli Hänninen, a "hip-hop maverick" as he's often described, is a hallucinatory, psychotic jumble of beats, menacing spoken prose, manic jazz, crackling electronics, ambient drones, field recordings and many other layers of madness, which will probably strangle you on the spot if you try and assign it any kind of stagnant musical genre. "Imagine a sober but psychotic Coil, or DAF with a shotgun, and you are not even close," says here on the Rough Trade online shop's description of it, and, well, quite. Dive in fearlessly though - it's mad, it's unpleasant, it's disjointed, but it's a lot of weird fun and it will inexplicably keep you returning for yet another mind beating.
---
26.
Mantar
'Pain Is Forever And This Is The End'
[Metal Blade Records]
Though it's one of my favourite episodes of the podcast, when I had Hanno Klänhardt from Mantar as a guest, even though it's clear that particular painful process had already started when looking back now, we were both far from imagining the hell he and drummer Erinç Sakarya would still be put through in the following months, a series of random accidents and bad experiences that would almost result in the dissolution of the band. Fortunately, the duo persevered and documented their grief and frustration on this tremendous album, a sort of culmination of everything Mantar have done so far, which is saying something. I, for one, am very glad Mantar still exists - they occupy a very singular place in extreme music today, their songs hit both viscerally and emotionally like precious few other bands, and to be honest, I get the feeling that despite the excellence of all their output so far, their very best is still to come. Watch this space.
---
25.
Negative Plane
'The Pact'
[Invictus Productions / The Ajna Offensive]
Very, very few bands can keep us waiting for eleven fucking years between albums and still have us go "oh, it was worth it" after the new thing finally drops. But that's exactly the reaction that 'The Pact' elicits after its first listen. For those who had been blown away by 2011's 'Stained Glass Revelations', it's as if time stood still all the while. A perfect follow up to that landmark record, it treads the ever thinning line between often antagonic genres like early classic heavy metal, black metal (both first and second wave, which I know seems like a contradiction yet again) and even thrash, feeling like a sort of timeless expulsion from a distant void. Even sonicwise, to say it sounds "vintage" is sort of misleading - yes, it exhales a mouldy, warm air of a lost demo found in a trunk that hadn't been opened since 1983, but it ultimately feels more alien and distant than any kind of "retro". Hopefully it won't take another decade to get the next chapter of this fascinating ongoing saga, but if it does, this absolutely unique hour of music will see us through well.
---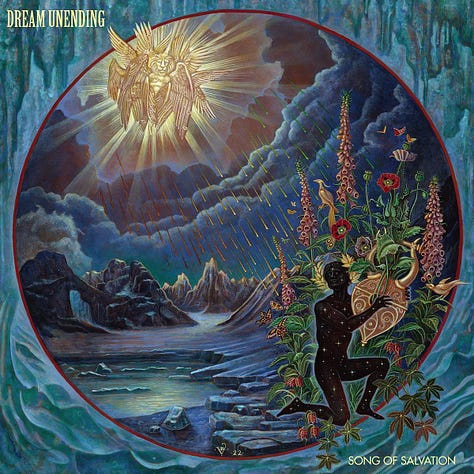 24.
Dream Unending
'Song Of Salvation'
[20 Buck Spin]
Innumerable Forms
'Philosophical Collapse'
[Profound Lore Records]
Sumerlands
'Dreamkiller'
[Relapse Records]
Yeah yeah, another shameless mash up of very different records bound together by one band member. It's my list and I'll cry if I want to. Seriously though, even if he isn't the ringleader in all of these bands, Justin DeTore's versatility is incredible - he does drums and vocals for Dream Unending, vocals and guitars for Innumerable Forms (after many years of doing everything, as that was his solo project in the beginning) and drums for Sumerlands. That's not counting all the other stuff he's involved in, such as the kickass Solemn Lament, from which you can expect something new soon, as the super nice Justin told us during his recent visit to the podcast.
Let's start by Dream Unending, which might still be the less lauded of the trio, and it deserves your full attention. Less than a year after their debut 'Tides Turn Eternal' (a week shy of a year, actually), which was already tremendous, it's almost unreal how they can have mustered up the inspiration for yet another epic album like this. According to Justin, apparent his partner in crime in that project, Derrick Vela (from Tomb Mold and Outer Heaven) is that prolific, and we can expect even more new music from them soon too. I'm not complaining, but I'd be fine waiting too - their dreamy, transcendent kind of soaring doom with traces of atmospheric death metal is inspiring, sounds really unique and makes for the kind of record that you can just put on and listen to with your eyes closed on the couch while you are transported to far away imaginary lands in your mind. Do not miss it for anything.
If you try that same experience with Innumerable Forms, however, you might just fall of your couch and produce a serious injury. Not that 'Philosophical Collapse' isn't atmospheric or evocative too, in fact it has atmosphere in spades, but such is the brute potency of its impact that it's really more of a thrashing around the room kind of listen. Slowly, though. The thrashing, I mean. Though its backbone is still essentially old school, murky, ancient-sounding death metal, the pacing brought by the doom element that Justin seems to always feature in his songwriting somehow adds a layer of foreboding, brooding darkness to it all. Calling it simply "death/doom" makes it sound like yet another normal release within that sort of stagnant genre, which it isn't in any way, but its brilliance does serve as one of the best sonic representations of that genre clash I've heard since the pioneers in the 90s.
Finally, Sumerlands, which seems at first glance like a total shift in direction. It is, in a way, of course, from dream doom and foreboding death to fist-raising heavy metal, but the subtle lamentation of the songwriting and the old school ambiance of Sumerlands make them an odd yet strangely appropriate bedfellow to the other two records I've piled it with. Of course, 'Dreamkiller' has some very big shoes to fill, in several ways. Not only was their self-titled debut of 2016 an album that made them instantly rise from the underground within their genre and become one of the brightest hopes for the future, but they also went through an always sensitive vocalist change, with former Magic Circle singer Brendan Radigan replacing the legendary Phil Swanson (who is, by the way, fronting the aforementioned Solemn Lament where Justin plays too). Fortunately, even with lofty expectations abounding, opening track 'Twilight Points The Way' alone is enough to settle any doubts. Brendan accomplishes the difficult feat of blending in the style we all knew and loved, providing a certain similarity of tone with his predecessor while bringing his own personality at the same time. As for the songwriting, it's as rousing, catchy and with that touch of melancholy that the amazing guitar duo (also both in Eternal Champion) of John Powers and Arthur Rizk bring. A touch rockier and with a few more 70s nods than the debut, it's a slight evolution and another decisive step in the right direction for one of the bands carrying proper heavy metal proudly into the future.
---
23.
Voivod
'Synchro Anarchy'
[Century Media Records]
Do I need to tell you why you should listen to the new Voivod album? I don't, I really don't. They are one of the reasons I'm even here talking about music and recommending records to other people. That after 40 years and fifteen albums, tragically losing their founding guitarist and songwriter along the way (we love you, Piggy!), they are still defying any kind of genre boundaries, playing live with the same excitement as before (I saw them literally last week, opening for Opeth, and they were as fabulous as ever) and even engaging into other activities (you know his artwork and everything, but have you checked out Michel "Away" Langevin's project with Eric of Thisquietarmy, for example?) is nothing short of miraculous. 'Synchro Anarchy', like its much praised predecessor 'The Wake', is a particularly inspired album, even offering a couple of modern day Voivod classics that I think won't leave their live setlist anytime soon ('Planet Eaters' is simply sublime), so, let's just celebrate the fact that we have Voivod with us, being creative and dynamic and enthusiastic as always, and hope they so remain for a long, long time.
---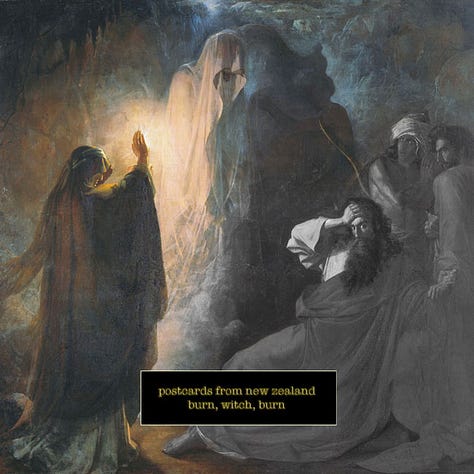 22.
postcards from new zealand
'burn, witch, burn'
'nin-an-nak'
'pfnz vii: liminal space'
[Self-released]
Ah, now this is something special. No, this isn't yet another album pile-up to excuse recommending you guys more music, this band called postcards from new zealand really did put out three albums this year. Or rather, they put out five, but these were the ones that made up a trilogy. Remember a band called pando that I've raved on about a few times? This also anonymous (though pando aren't really anonymous anymore, but anyway) act reminds me of them in a way, right down to the lower case styling of their name - also reaching me in totally random fashion, also making oddball music and sharply turning direction at each new release, and also absolutely awesome. So yeah, it was early in February that I got the promo for 'burn, witch, burn', with the ominous press release warning that this was but the first volume of an "epic trilogy", or of a collection called 'betwixt and between' to be more precise. I was more amused than curious, but that swiftly turned to impressed bewilderment upon playing the thing for the first time. While not super shocking musically - it is in fact the more "conventional", let's call it that, of the three volumes -, these violent outbursts of angular, sludgy black metal really felt… off? Yeah, like there's something wrong with it happening just outside hearing range, a very strange and uncomfortable vibe that, of course, totally fits the message. This release in particular takes the imagery of witch burnings and places it in a current day context, with the aim of "exploring negative stereotypes of women reinforced in our patriarchal, heteronormative, Western Society," in their words, which isn't an easy subject to tackle, but they do it remarkably well. For once, words like "postcards from new zealand uses non-standard time signatures and dissonance to craft a despicably disturbing sound" on a press blurb didn't mean "yeah, we listened to Voivod twice and wrote this," but really sound like an apt description.
By now my radar was firmly set on this weird little band, and sure enough, as promised, a couple of months later 'nin-an-nak' landed on my inbox. I have no idea what I was expecting, but it sure wasn't an Eastern-sounding, massively textural, dark ambient album about the Sumerian goddess Inana. But hey, that's what I got, and what an expertly crafted piece it is too.
By now it was obvious the conclusion of the trilogy was going to be something completely different, and for sure, 'liminal space' can very well be described like that. Perhaps the most disconcerting of the lot, the band says that its songs are "born from rhythms from all around the world," and while yes, most of it does give off a kind of exotic twang, there's precious little else to hang on to in terms of genre-comfort. It sounds like… an album Devin Townsend would do if he had a band on Hells Headbangers and wanted to write extreme reinterpretations of Dead Can Dance? I don't know, man. I've known postcards from new zealand for less than a year and I already know best than to try and figure them out or predict their next move. I just go with the flow and I love every minute of it. Also, remember what I said - these are just three of the five albums they released this year. If you go on their Bandcamp, you can see 'sketches of pain, vol. ii' and 'we watched them devour, xv: heritage', which are two entirely different releases each in their own apparently separated universe. And before those, there are 24 other releases, dating back to 2010, and I will confess I haven't gotten through all of them yet. I have however listened to more than half of them and I have a few favourites (2012's 'spare graves' is quite amazing, for instance), and I have to say I feel a bit like I stumbled into Rick Sanchez' portal gun in my backyard and I'm now using it in secret. If you're feeling particularly adventurous, try and give it a shot too.
---
21.
Wovenhand
'Silver Sash'
[Glitterhouse Records]
I feel there's been a little less fanfare about this new Wovenhand album than usual, am I in a strange black hole or is this true? I kinda get it, because it takes a sharp left turn in terms of mood when you compare it to the string of albums that came before. 'Star Treatment' was in a way an unsurpassable example of the lush, feverish heights David Eugene Edwards can reach, a deliriously celebratory album with immediately appealing songs and perhaps the most gorgeous ballad ever ('Golden Blossom'). This, on the other hand, feels like its outlaw, runaway brother, hiding from the law in a dark cave, offering a much sinister tone in comparison and requiring a bigger effort to discover the riches hiding within the subtler, more understated songwriting. For the first time, David has made a Wovenhand album in full collaboration, with the genius that is guitarist Chuck French (Planes Mistaken For Stars, Git Some), and maybe that's where the more sombre, rockier vibe comes from (dude, there's an 'UGH!' Tom G-esque death grunt at the beginning of 'Dead Dead Beat' - and another halfway through!), but that's just wild guessing from seeing a couple of shows with the current line-up. And it's not like David isn't a rocker himself too. Credit where credit is due, this review on Organ Thing really nails it, especially when they evoke the shadowy ghosts of Scott Walker, Nick Cave or Michael J Sheehy as comparisons to what this moody record feels like, and when they call it "a rich album that needs holding, studying, admiring," because that's exactly what it is. And I suspect that if you're a Wovenhand fan, old or new, you'll find all the time that it needs to blossom and never regret it.
---
Stay tuned for the next round!
The Devil's Mouth is a reader-supported publication. To receive new posts and support my work, consider becoming a free or paid subscriber.