TOP 50 ALBUMS OF 2022: Part V (#10-#06)
Relax, it's almost over.
---
10.
Devin Townsend
'Lightwork'
[Hevy Devy Records / InsideOut Music]
It did Devin Townsend a world of good to refocus, to slice off some fat from his constant, neverending musical output, a few years ago. It's no accident that after years of Devin Townsend Project/Band and whatever other alternative names he used, after ambitious four-album concept albums, countless collaborations, alien puppet mascots and a generally excessive, over the top kind of artistic expression, he was able to condense the vast universe that surely swirls inside his head, and he put out his best album since the late 90s, since the golden Strapping Young Lad/first solo albums ('Ocean Machine' and 'Infinity' particularly) period, the unbelievably awesome 'Empath'. Not to take away any merit from the wild, boundless creativity the man exhibited for the biggest part of this century - there's a reason why there seems to be an unwritten rule to mention the word "genius" every time we music writers muse about Hevy Devy, and that status is well deserved. But after a while, it became quite clear the Canadian musician was spreading himself way too thin, and a kind of an artistic reshuffle was needed. He will always be a restless, exploratory, adventurous musician and songwriter, make no mistake, and that carries a certain inherent hit-or-miss quality to his outpouring of material - since 'Empath' came out, there have been two stopgap sister albums, 'The Puzzle' and 'Snuggles', which aren't terrible, of course, but seemed more like a way to get stuff out of his system before he did another "proper" album, which is this 'Lightwork', than anything to fuss too much about. Hey, if that's the price we have to endure to get pieces of absolute brilliance like 'Empath' was and like 'Lightwork' is, I'll sign that deal right now.
The evolution from album to album is also much more noticeable now - whereas 'Empath' was for the most part (his records are never just one thing, very far from it) a colossal-sounding, often brutal affair, offering the closest material to Strapping Young Lad that Devin has ever written ever since that project disbanded, 'Lightwork' is true to its title. It offers a sort of balladesque, sometimes even pop-like approach to songwriting - do interpret this "pop" in the correct Devin context, however -, with gorgeous melodies, sumptuous instrumentation and luxurious arrangements. It's a lush, lush sonic experience, which you can pretty much sing along to all the way through and totally miss, consciously at least, the ocean of detail and subtlety that's going on at its heart. Don't worry, it'll make its way into your brain all the same. It's incredible, for example, how Devin is the only vocalist I can think of that can actually do harsh screams and growls in fucking key, actually growling out melodies that you will hum until you realise the man is actually screaming them almost like a black metal vocalist would. It's also, much more than before, an album of songs - actual, self-contained songs that you'll want to repeat-listen over and over, irresistible gentle growers like 'Call Of The Void' or the title-track, but also electro-psychedelic anomalies like 'Heartbreaker' or 'Heavy Burden' (which features parts that could easily have been taken out of the Katamari Damacy soundtrack) or grandiose epics like closer 'Children Of God', which only reveal their true dimension if you really stop to think about what you've been listening to, so natural is their flow and spontaneity. No matter how simple and uncluttered a Devin Townsend song feels, there's always a million things happening at once. The trick is in how to make more feel like less, and therefore be more. If you know what I mean.
I really don't want to fall into that cliché like everyone else, but if you do have a better word than "genius" to describe what Devin Townsend keeps doing, I'll gladly entertain alternatives. For now, it'll have to do.
---
09.
Ysyry Mollvün
'Ysyry Mollvün'
[Avantgarde Music]
I was sincerely blown away when I heard this album for the first time, to the point of raving about it when I did my Gimme Metal radio special (remember?) and everything, and I'm glad to report that it only gets better as time and repeated listens go by. The very first release of this Argentinian duo (Italian-born Antonio Sanna, from Downfall Of Nur and Zupai Ulen from Ancestrum, the project's creator, take care of every instrument and all vocals) is that rare thing, a new band that appears within its perfectly established universe, an interesting and unusual subject matter, and a musical personality that is all their own already. And yes, I know that metal - and black metal in particular - based on native cultures is slowly becoming a whole thing right now, and of course there are other great bands out there, but few, if any, do it with the respect, depth and sincerity that these guys approach it.
Sanna came into the fold a few years after Zupai created Ysyry Mollvün, initially in the role of producer but quickly becoming involved as a musician too, composing arrangements for native instruments such as the charango, sikus, flutes and percussions, all of which are used in a subtle, integrated and absolutely non-gimmicky way in these songs. The band's name itself comes from a combination of native words. "Ysyry" is the word "river" in the language of the Guaraní, indigenous people from South America, and "Mollvün" means "blood" in the language of the Selk'nam people, an indigenous tribe from southern Argentina that is the main thematic focus of this album. As the notes explain, the record tells the story of "K'aux, a being that was once a human who was educated by the Selk'nam gods to teach the tribe what was necessary to outlive in the harsh conditions of the extreme south of the world. K'aux betrayed his oath and did not pass on what he learned, and for this reason he was condemned to lie forever, neither dead nor alive, in the center of the earth." I urge you to explore more, via this album and further reading, because it is a truly fascinating and very widely unknown mythology that these guys are tapping into here. Musically, we are very much in atmospheric black metal territory, undeniably so, but remarkably blended in with elements taken from the Selk'nam culture, creating a mix that becomes truly unique, even in the grossly overcrowded world of black metal. I'll gladly keep spinning this tremendous album over and over for years, but at the same time I already can't wait to hear the next chapters. Something special is brewing here.
---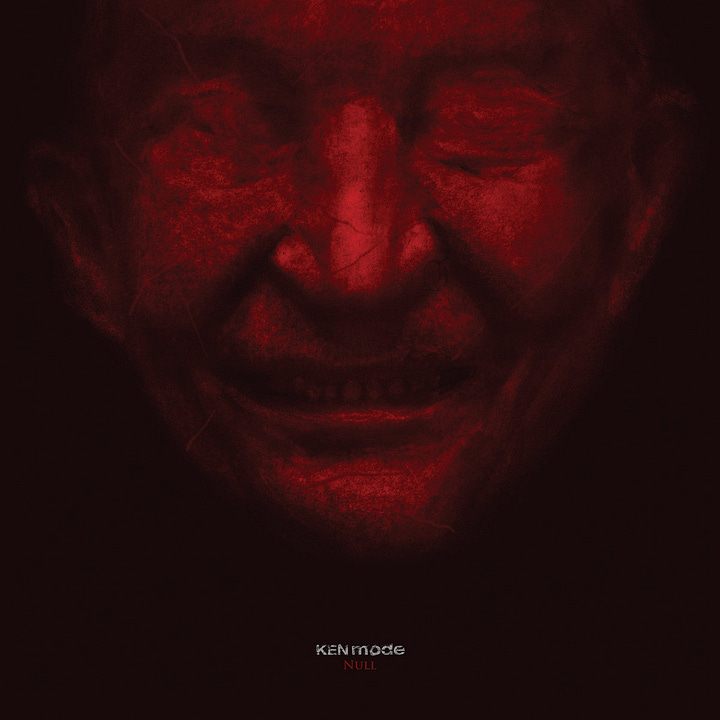 08.
KEN mode
'NULL'
[Artoffact Records]
OvO
'Ignoto'
[Artoffact Records]
It's the last of the shared positions, okay? It had to happen, because I had eleven records for the top 10 and I wasn't about to give up on any of them, so unless some brilliant mathematician discovered an extra number we've ignored for years in the meantime, I had to do some cramming, and lo and behold, here's two weird, twisted, horrendously dark albums coming from the same record label! Kudos to Artoffact Records then, first of all, for coming to the rescue, and for having generally awesome taste - they're also the people who have brought you albums by tunic, Cloud Rat, GGGOLDDD, Ploho or Encephalon in the last few months, a few of those being members of the "albums that should also have been on this top 50" club that I'd rather not talk about too much.
Anyway, you know KEN mode are awesome, probably the best noise rock band, with emphasis on noise, this side of the 21st century alongside Today Is The Day or Unsane, and by now they've become solid enough for each of their albums to be treated as a proper event. I mean, can you think of a creepier, harder-hitting, lurking beast of an album than their 2018 masterpiece, 'Loved'? Even without that artwork, one of the scariest, most amazing pieces ever to grace an album cover, it was a career-defining moment, one of several for these guys, and in the four years since, they've seemingly just sat on their hate juices, simmering until they were ready to burst once again. 'NULL' picks up where 'Loved' left off - straight away letting off one of their best songs ever, a pounding, atonal rager called 'A Love Letter' which will hammer its Swans-like repetitive message ("this was a mistake!") into your skull and probably ruin your enjoyment of the first listen, as you desperately grope around for another tune like that. There isn't any, because angular displeasers like 'Throw Your Phone In The River' or the riff-heavy 'Not My Fault', not to mention the devastating ten-minute sludge-rock out of 'Lost Grip', will all fuck you up in very different ways. Promoting long-time collaborator Kathryn Kerr to full band member was a brilliant move, and the straneness provided by her outbursts of saxophone, synth, piano and percussion is now more frequent and employed to an even more disorienting effect. "I don't believe that you mean well," howls Jesse Matthewson - one of the great lyricists in heavy music right now, and lest we forget another The Devil's Mouth podcast alumn as well - repeatedly during that 'Lost Grip' monstrosity - and no, KEN mode never mean well. They make some of the nastiest, most acrid and confrontational music you'll get to hear, and that's why we love them so much.
There are more parallels than just the record label between KEN mode and OvO, okay? As it was obvious from our wonderful chat in a recent podcast episode, it's also clear that the Italian duo of Stefania Pedretti and Bruno Dorella are as lovely as people as the music they do together is nasty and unapproachable, and even in terms of good taste for album artwork they're way up there with their Canadian labelmates, as you can attest by that grotesquely beautiful creation by Italian tattoo artist Ruco. They've also had a long career full of dramatically different albums - and a ton of collaborations -, which makes the claim that 'Ignoto' feels like a summation of everything they've done so far a very bold one. I do maintain it, however, in my privileged position of a longtime OvO fan who's seen them live several times and has listened to all their records, and that's why this tremedous album is so high up on the list. Composed two movements, 'La Morte Muore' and 'Distillati Di Tenebre', with four parts each, its scope is nothing short of cinematic, as if it was a soundtrack to a long lost horror movie, where even the more ambient parts maintain a sturdy impact on the listener - you don't just drift off with 'Ignoto', no matter if Stefania is full-blown shrieking at you like some unspeakable Lovecraftian creature on top of a wall of guitar-shredding noise and some proper drum-pounding by Bruno, or if it's just a textural, feedback-y dirge that's been pulling you along for a couple of minutes, you'll always feel on the edge of your seat, constantly on that final moment before the full approaching dread reveals itself, like a nightmare that keeps delaying its climax until you wake up in a cold sweat. No spoilers, but its last track is but a deconstruction of sound, bleeps and scattered beats as though you're picking up on a long lost radio transmission from hell, as if the music itself is crumbling apart at the end of a long and devastating journey.
Play these two albums back to back, and the universe itself might collapse. You've been warned.
---
07.
Zeal & Ardor
'Zeal & Ardor'
[MKVA]
For a couple of years now, the motto for Roadburn Festival, one of the most important hotbeds of innovation and creativity for heavy music worldwide, has been "redefining heaviness". Sounds simple, and it holds so much meaning - as a statement of intent, you'll be hard pressed to find something that is more ambitious or, at the same time clearer of purpose. And just as Roadburn walks that talk with aplomb, so do a few bands that have been doing just that the last few years, redefining heaviness. It could be argued that Zeal & Ardor started doing just that with the very first song that made them widely known - 2016's 'Devil Is Fine', mixing a black metal archetype with the type of raw blues songs black people sung during slavery and the Jim Crow era, truly created something, and the intense reactions it got were a proof of that. To think that main man Manuel Gagneux created Zeal & Ardor on a sort of a dare, after a racist-fuelled challenge from a user on 4Chan (duh). How far we've come from those days, and at the same time, how close we still are to that initial impetus. Manuel himself doesn't like to lay too much of a political charge on the music itself, insisting on the main motivation being the creation of new music by using elements of several genres, despite the potently charged messages he doesn't shy away from putting in his songs. He even called 'Wake Of A Nation', a six-song EP written as a direct reaction to the murder of George Floyd and all the events that followed, "a knee jerk reaction to what has happened to my fellow people in the last months." He once told me in an interview that "if you have the best message in the world, but it's in a bad song, no one will give a shit," (and we also talked about that on the podcast episode on which I was honoured to have him as a guest) which shows an artistic wisdom and balance that is unusual for someone so young and so obviously affected by the state of the world around him. So each Zeal & Ardor album has not just been a social and political (and human) statement, a real portrait of the traumatizing zeitgeist we are living in, but also remarkable musical statements, full of absolutely outstanding songs, which only serve to amplify that message.
But is it black metal, the slower-minded fan at the back asks in a Butthead kind of drawl. Does it matter, Chad? Hey, you know Ihsahn, one of the guys who created the very foundations of what you call black metal? He said this the other day: "To me, the whole cultural policing of what you're allowed or not allowed to do as an artistic expression, that's contrary to the black metal ethos. This rulebook of what you're supposed to do, or not, for it to be categorised as black metal, that is the antithesis of black metal, but that's just in my book. I take it as my prerogative that I do whatever the hell I want and therefore, by definition, that is black metal." So no, 'Zeal & Ardor' isn't black metal as we instinctively imagine it from the mention of the genre name, but it still is, very much so, in the sense of being rebellious, free and in complete opposition to organized religion and all its little minions. In the end, what matters, as Manuel would surely approve, is the weight and impact of these songs. It's the way massive slogans like "where's your fucking god?", "death to the holy!" or "and the church burns" will remain burned into your mind, and not just because they sound great - it's because they sound great as part of the songs they're used in.
A sizeable progression from the two previous albums, 'Zeal & Ardor' is still very much Manuel (now on his own in the studio again, after using his band for the recording of the previous 'Stranger Fruit') figuring out what Zeal & Ardor is, what it can do, where it can go. And he's doing so not by drawing limit lines, but by looking for which of those lines he can cross. The result is that this third album is by far the most varied of the lot so far, but it's also the most solid and consistent. The crux of what Zeal & Ardor really is seems to lie not in the specitic form that it is used to deliver it, but more in the heart and soul behind the delivery. From the extreme post-rock of 'Emersion', most likely the best three and a half minutes of post-rock of the past few years, to the almost gospel-pop dark beauty of 'Golden Liar', not to mention the monolithic caveman riffs at the heart of the crushing 'Death To The Holy' or the meaty hip-hop in disguise of 'Bow' (which kind of makes us dream of a collaboration with dälek - can you imagine?), it sounds like an album that's all over the place in writing, but feels like totally the opposite when listening to it. As much a culmination as a starting point to bigger and more ambitious journeys of exploration, 'Zeal & Ardor' is essential 2022 listening no matter how you look at it.
---
06.
Menace Ruine
'Nekyia'
[Union Finale]
After a worrying eight year creative silence - 'Venus Armata' is already from 2014, and even Geneviève's other project, Preterite, had its last release, 'From The Wells', in 2013 -, the sudden release of 'Nekyia' a few weeks ago (if you were wondering why I said up there I had eleven albums for the top 10, it was because of this late entry) was like a long and profound gasping for air after being submerged in the waters of silence for so long. If you are already a fan of Menace Ruine, I don't have much to tell you that you don't already know. The duo formed by Geneviève Beaulieu and S. de La Moth have been making some of the most sinister, beautiful and heart rending music you will ever hear, building on a deceptively simple formula of drone and folk music and always bringing something new at each step of their evolution. And but a few minutes of 'Nekyia' are quite enough to realise that, despite the longer period of wait between two releases (they always had an album every two years up until 'Venus Armata'), this is another one of those step forwards while maintaining every element that makes their music so unique.
The acute, hypnotizing droning that backs Geneviève's distant yet welcoming, solemn singing on opener 'Your Sadness Is Vain' is the perfect way for them to whisper "we're back, and everything is okay" in your ear, before the album truly lifts off into transcendent heights. The two songs that follow, 'Pigeon Rain' and 'Umbra Horrenda', are two of the best the band has ever written - which, with the embarrassment of riches provided by their back catalogue, is truly saying something - at the same time darkly evocative and deeply, almost supernaturally soothing. Droning, breeze-like guitars that come across like Darkthrone circa 1992 attempting ambient music, synths and drums working in tandem to provide a warm, all-encompassing cover against the force of the elements, and above all, Geneviève's astoundingly singular voice, as if she's channeling something bigger than all of us. When she repeats "may our heart break open" towards the end of 'Umbra Horrenda', I can tell you that mine very nearly does so. "So it holds the whole universe / the whole universe", is how that line concludes. So I think you'll have to wait a little for the final volume of this list, because something got into my eye just now for some reason and I'll have to listen to this record a few dozen times more to see if it passes. Don't go anywhere.
Find Menace Ruine on Bandcamp
---
Stay tuned for the final round!
The Devil's Mouth is a reader-supported publication. To receive new posts and support my work, consider becoming a free or paid subscriber.